Welcome in a new Development Diary post of the adventure game – The Descendants of Volos!
If you haven't read the previous posts yet, here they are:
Post 1 – Game announcement
Post 2 – World map and Tutorial
Post 3 – Event cards
Post 4 – Equipment
Post 5 – Enemies and Combat
Post 6 – Dungeons
Post 7 – Setting up a player character
Post 8 – Character Portraits
Post 9 – Grand Changes
Post 10 – Intellect and Snaaga
Post 11 – Generated Quest Sequence
Post 12 – New Old Cards
Post 13 – Factions and Achievements
Today we're going to talk about a very old problem in board games. What happens if I lose the game prematurely? Should I go home, or watch my friends having fun? Not in the Descendants of Volos!
Champion Master
With at least 3 players in the game, if a player loses all 3 souls, that player is considered as LOST, and his/her Victory Points are not counted when the game is over. However, the fun is not over. Discard everything! Your character card, all your items, tokens, everything… Except the player panel that you flip to the other side.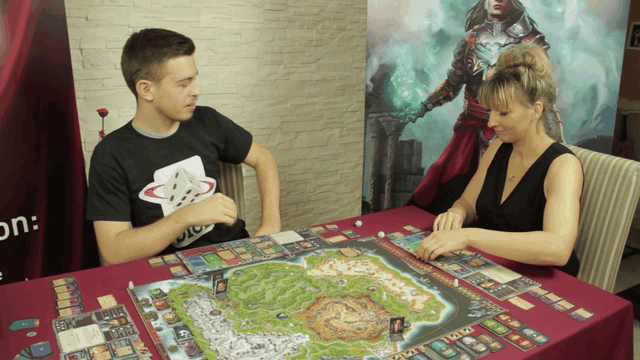 You've now become the Champion Master.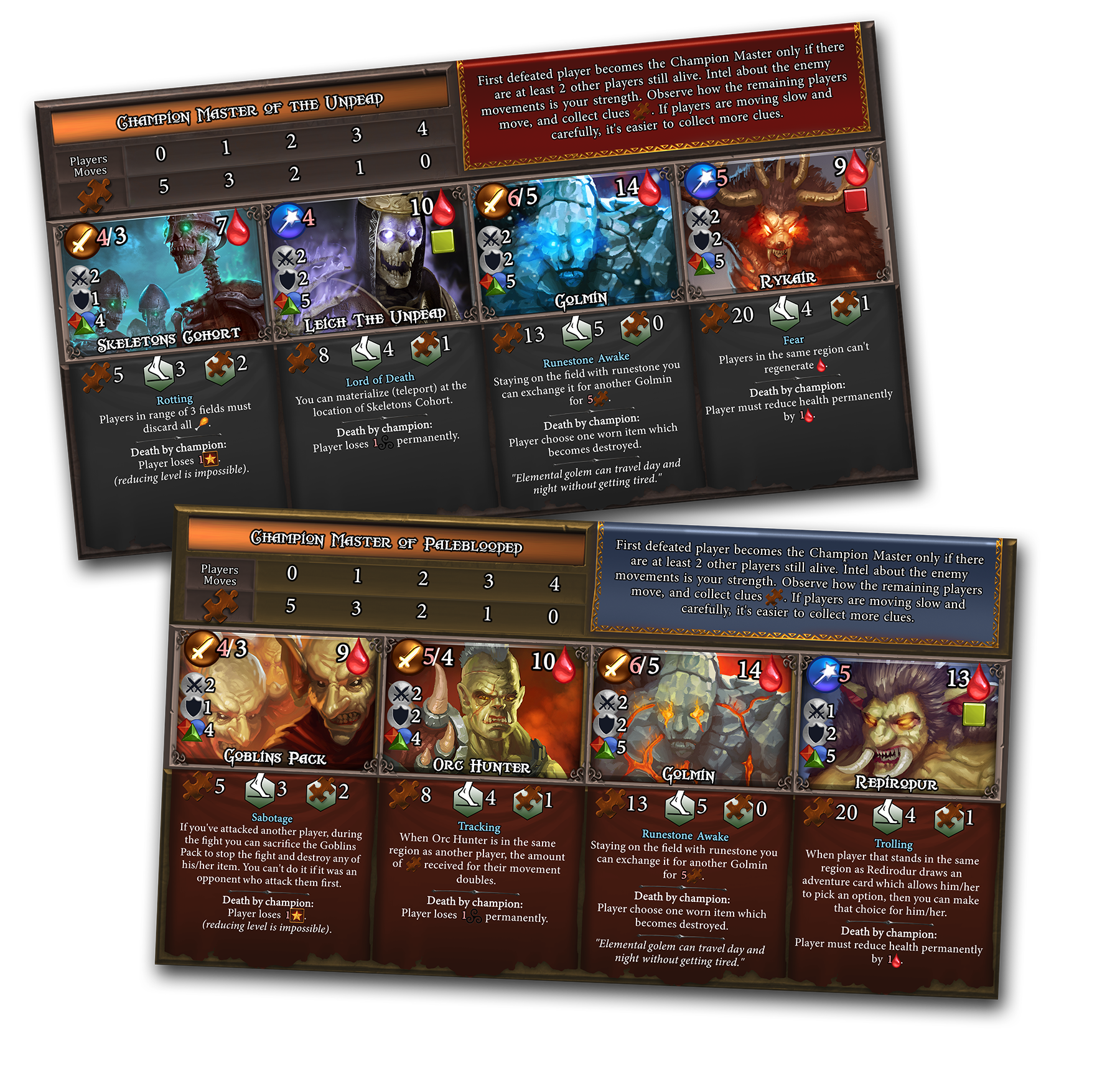 All the creatures that were silently sitting in the dungeons are now coming out and chasing the remaining players. Although you can't win in this session, you can still enjoy taking revenge on other players, or simply troll them… The game mechanics are super simple. The Champion Master is always the last to move in the round. You collect points (we reuse the clue tokens to simplify the game content), which you spend on spawning and moving your creatures. The fewer fields the other players have moved in the round, the more points you get. So, by traveling slowly and more carefully they make you more powerful and it's easier for you to catch them. The intensity of the game play grows…
There are two different types of champion master panels, and they allow the lost players to control different types of monsters. So it does matter which panel you choose at the beginning of the game.
Remember that you're the champion master! You do not role-play those monsters, which means that you don't cast an attack or defense dice for them. You don't make any in-combat decisions for them, either. That's because you control many of them at the same time. Over a single day, you can attack multiple players with different monsters. And because the combat with monsters is designed in such a way that the game can be played also in a single-player mode, you don't have to make any decisions for the monsters. The attacked players cast the dice for themselves and for those monsters.
However, a champion master has plenty out-of-combat skills. The nearby presence of those monsters may already be a pain in the butt for the remaining players.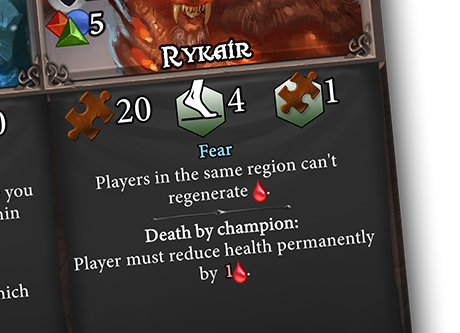 In fact, each turn is very short for a champion master. Collect some points, spawn and move some monsters, and remind the players about possible penalties caused by the very presence of your champions. But it's still a nice chill out to watch and enjoy your friends struggle with your monsters 🙂
That's it for today. If you like our posts, please make sure to share the links with your friends. See you soon in another development diary posts of the Descendants of Volos board game.