Hello dear followers. Today's post will be a short update of how's our project going on.
Crowdfunding
The first important news is that we'll not be doing Kick-starter, but GameFound instead.

In a matter of weeks, we'll start a pre-launch page, and then we'll share the link with you. We're currently in the middle of preparing all the necessary marketing materials.
Manufacturing
For the last couple of months we've been working on the box content design and preparing documents for the manufacturing quote. Our focus is to make the game as low-price as possible. But never at the cost of quality – rather by finding different design solutions, which took us more time than we've initially anticipated.
Art updates
The graphics in its current state is still not what we want to deliver to you and we're going to improve nearly all of it. Recently we've been doing a complete remake of some art, like for example a Runestone which we're now quite fond of and we'll therefore present it in a separate blog post. We've been also adding lots of missing graphics, and reworking those elements which have so far been just quick drafts. Here is for example a card of a magical Hummingbird companion painted very recently: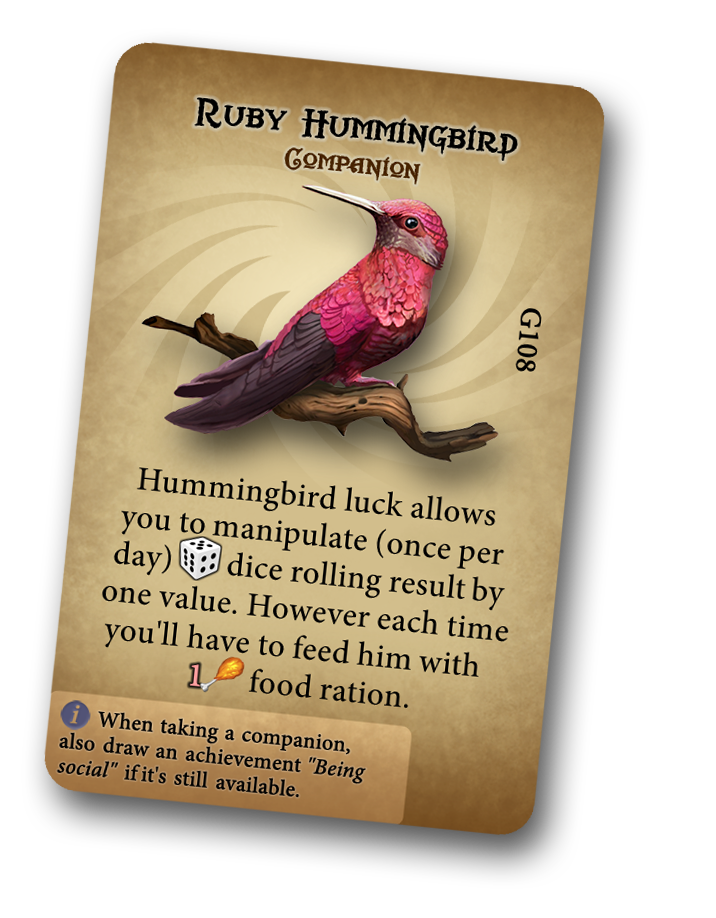 Progress on 0.1.6 version
Over the last few months, we've been very intensively working on the next version, 0.1.6:
Reworking sequences of investigation card stories to make them more interesting.
Brainstorming the mechanics for new organization influence tokens.
Working on the mechanics for the single player campaign scenario.
Finding and fixing lots of exploits, bugs, balancing combat etc.
Investigation cards
Investigation cards are a very challenging thing. They are 3 stacks of cards in which any, absolutely any permutation should give a story that makes sense from the beginning to the end. When designing such a thing, one must design a very strict set of rules, otherwise you may end up with a combination that doesn't add up. We've been reworking those rules a bit in order to achieve better immersion and some more freedom in storytelling. We'll share some sneak-peak results soon.
Influence tokens
Influence tokens went a long way from the beginning of this game, and this is the 4th time that we've reworked their mechanics. Simply because each time we figure out that things may be done better.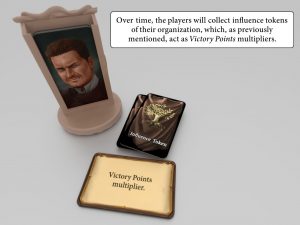 Screenshot from the tutorial (v.0.1.5) showing the reverse side of the old influence token that will contain skills on its reverse side in version 0.1.6.
In one of the earlier versions, the reverse sides of these tokens showed skills unique for each organization. Tests revealed, however, that players very often forgot to use those skills, so we've decided to remove them temporarily. Although remembering things is one of the intended challenges in this game, we've decided to make it slightly easier by not making the player remember about them. However the player will still get a set of interesting abilities unique to each organization. To achieve it, we're reworking a vast majority of the event cards so as to support extra options that will be unlockable via those skills. It means that some situations will have extra options to do if you own a specific influence token. More details soon…
Single player campaign
The single player campaign is a small book in which the player follows the story by playing one character after another. We're making a high-level plot design, writing and testing the gameplay in order for it to be both immersive and interesting to play. It's too early to share any details, but stay tuned…
Bugfixes
Last update worth mentioning is that we've been as always fixing lots of exploits, finding bugs, balancing the combat etc. A great deal of cards were rephrased in order to avoid occasional confusion and misunderstandings that we've managed to spot.
That's it in today's update. Thanks for staying with us. Please, remember to share with your friends about our project.
Cheers!